Airbag Concerns Prompt Another Round Of Recalls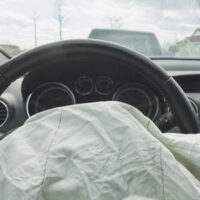 A major automaker announced that it was immediately recalling tens of thousands of vehicles in order to replace dangerous Takata airbags. These airbags are especially dangerous in hot, humid places like Florida.
Audi engineers believe that about 60,000 vehicles have drivers' side airbags which either don't inflate after a collision or explode in the driver's face in such situations. There have been no reported deaths or injuries due to this defect. But Audi ordered the massive recall of TT coupes (2000-2001 models), TT convertible roadsters (2000-2001 models), and A4 and S4 sedans (2000-2002 models) after the airbag propellant failed some laboratory tests.
Observers believe that millions of vehicles with defective Takata airbags are still on American streets and highways.
Potential Airbag Injuries
There are basically three potential defective airbag injuries. Sometimes, an extremely minor collision, like backing into a mailbox, affects a delicate airbag sensor. As a result, even though the owner may have no idea there is a problem, the airbag might not deploy when needed. Furthermore, the chemical propellant in airbags contains high levels of carbon dioxide and nitrogen. If these gases leak, they could cause serious chemical burns.
In the vast majority of cases, the injury involves a dangerous chemical propellant. Not any substance will do. The airbag must fully inflate in the blink of an eye following a crash. However, the propellant must not cause the airbag to explode. If that happens, the steering column usually explodes as well, showering the driver and passengers with deadly shrapnel.
Takata, a large and now-defunct Japanese company, manufactured most of the airbags in passenger cars and trucks sold throughout the world. Initially, the company used a stable and reliable, yet very expensive, chemical propellant.
In the 1990s, to save money, the company began using ammonium nitrate. Domestic terrorist Timothy McVeigh used this highly volatile and explosive substance to make the Oklahoma City truck bomb. Ammonium nitrate is especially dangerous in high humidity environments. Moisture degrades ammonium nitrate to the point where it becomes almost like nitroglycerine.
All of these issues cause extremely serious injuries. Because of this severity, and also because the manufacturers usually know about the safety issue yet don't correct them, compensation is usually high in these claims.
Liability Issues
Ordinarily, to obtain compensation, victim/plaintiffs must prove negligence, or a lack of care. But in a defective product claim, a Tampa personal injury attorney must only establish cause. That's because most manufacturers are strictly liable for injuries their defective products cause.
We talked about manufacturing defects above. In addition to problems which occur during the manufacturing process, product makers are normally strictly liable for problems which come up during shipping.
The same liability principles apply to design defects. Defective hip implants are a good illustration. The all-metal parts were supposed to make these gadgets more durable. But instead, the parts grind against each other, releasing tiny metal fragments into the victim's body. These particles accumulate and cause metallosis, or metal poisoning.
Manufacturers usually send recall notices to record owners. In many cases, used vehicles are on their fourth or fifth owner. So, once again, the actual owner might have no idea there is a problem. In other words, manufacturers cannot use recall notices as an excuse to reduce or deny compensation.
In addition to compensatory damages for things like medical bills and emotional distress, these victims are usually entitled to substantial punitive damages. These damages are available if there is clear and convincing evidence that the defendant intentionally disregarded a known risk.
Connect with an Experienced Hillsborough County Lawyer
Car crash victims are usually entitled to significant compensation. For a free consultation with an experienced Tampa airbag injury lawyer, contact Mark H. Wright, PLLC. We routinely handle matters in Pinellas County and nearby jurisdictions.
Resource:
dailyhornet.com/2021/audi-recalls-62000-older-vehicles-for-defective-takata-airbags/