Reports Uncover Link Between the Worst, Most Dangerous Nursing Homes in Florida and Owner Magnate Linked to Trump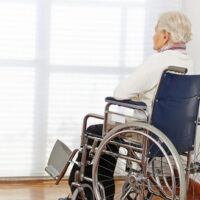 COVID-19 has ripped through nursing homes, and now accounts for more than 50 percent of the entire state of Florida's deaths in these facilities. The number one cause cited for the virus spreading is the inability to prevent the spread of infection, leading to residents not only getting sick, but staffers as well. However, the abuse and neglect at these facilities is also horrifying: Assaults, falls, breaking hips and appendages, finding raw sewage in residents' rooms, residents with open wounds or going almost two weeks without bowel movements and staff taking notice, resulting in hospitalization, staff failing to wash their hands, etc.
According to the latest reports, a number of the most troubled Florida nursing home facilities are linked to Eliezer Scheiner, an operator who has become notorious not only due to the poor quality of care in his homes, but also due to his fundraising efforts for President Donald Trump. Consequently, since Trump has taken office, his administration has benefitted those like Scheiner by deregulating nursing homes in every way possible, including throwing out a previous rule that would have banned binding arbitration agreements which make it more difficult to hold operators accountable, putting forth proposals that water down infection control requirements, and decreasing fines doled out by the Center for Medicaid and Medicare Services.
Incidents That Predate the Virus Are Alarming
There are a reported 24 Florida nursing homes tied to Scheiner, and more than one-third are on the state's watch list for being "troubled."  Incidents that predate the virus included residents dying due to choking because staff failed to perform CPR, hyperthermia after being left outside unattended for hours in hot weather, and accidental overdoses of morphine. Homes tied to Scheiner not only had lower staffing levels, but fewer registered nurses, which are key for controlling infection rates, and three-fourths the amount of daily care from these nurses compared to average nursing homes.
Scheiner's Florida Nursing Homes Are Amongst Worst One Percent
In addition, the following number of residents died at Florida nursing homes owned by Scheiner, just due to the pandemic:
22 residents (in addition to one staffer) at Gulf Shore Care Center in Pinellas Park Florida, making it one of the worst one percent of nursing homes in the state of Florida
16 at the Sands at South Beach Care Center in Miami Beach, placing it in the worst two percent
10 at the Southern Oaks Care Center in Pensacola
In total, more than 100 employees and residents have died in Florida nursing homes linked to Scheiner—a reflection of one of the highest total losses of life in any network of homes in the state. In addition, 21 out of the 24 homes linked to Scheiner obtained between $14 and $35 million in PPP loans in April and May alone, including Gulf Shore Care, which received $1.5 million—the most of any nursing home operator in the entire state. Meanwhile, the Florida nursing home industry is still seeking immunity from civil liability from legislators in the midst of some 3,000 resident and staff deaths statewide.
Contact A Florida Nursing Home Negligence Lawyer
For many of these families, their loved ones, suffering not only from COVID-19, but from neglect, became completely unrecognizable in their final days: Covered in bedsores, emaciated, moaning in pain, and suffering from severe malnutrition.
If you or a loved one have concerns about a Florida nursing home, Tampa nursing home abuse attorney Mark H. Wright can help. Contact our office today to find out more about our services to help Florida families recover when harm has been done.
Resources:
miamiherald.com/article244516407.html
theintercept.com/2020/08/08/trump-scheiner-nursing-homes-covid-19/
https://www.markwrightlaw.com/consulate-health-care-floridas-largest-nursing-home-chain-faces-quarter-billion-dollar-judgment-linked-to-patient-mistreatment/