The Fatal Four Construction Accidents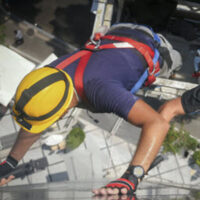 As is so often the case, the environment sets the stage for workplace accidents in the Sunshine State.
Florida's construction industry is quite competitive. A few dollars could be the difference between winning a contract and watching another company complete a project. Many bosses try to trim costs by cutting corners when it comes to safety. Additionally, many Florida construction workers are LEP (Limited English Proficiency) employees. These individuals are hard workers, but they often do not fully comprehend safety procedures.
According to the Occupational Safety and Health Administration, the number of construction site fatalities could be nearly cut in half by eliminating the Fatal Four.
Fatal accident survivors are entitled to financial compensation for their losses. Money never makes up for an untimely death, but it at least helps families move forward. No fault workers' compensation benefits are available in many situations. Other survivors might be able to file claims in civil court, where they are entitled to additional compensation.
Falls
Slip-and-fall incidents and falls from a height are, by far, the most common fatal construction accidents in Florida.
It is easy to lose one's footing at busy construction sites, especially in places like narrow scaffolds. Due to a prior injury or a genetic abnormality, many victims are especially susceptible to serious slip-and-fall injuries. Additionally, these incidents often cause head injuries. And, many doctors do not immediately diagnose and properly treat fall-related head injuries.
Pre-existing conditions or not, falls from as little as four stories above ground could be fatal. Height usually multiplies the injuries in these incidents.
Caught Between
Many workers are caught between platforms on elevators and lifts. Frequently, construction lifts and elevators do not have the same safety sensors as the devices in finished buildings. Other workers are caught between heavy falling items, like construction cranes, and the ground. Either way, the injuries in these incidents are often gruesome.
Struck By
As mentioned, height usually multiples fall injuries. There is an old, and partially true, story that a penny dropped from the top of the Empire State Building is fatal to a pedestrian below. So, altitude also multiples the injuries in these situations. A plummeting hammer from a few stories up could easily be fatal to someone on the street, even if that person is wearing a hardhat.
Electrocution
At busy construction sites, it is often difficult to tell the difference between a live wire and a dead one. These incidents cause several kinds of injuries.
Flash burns are perhaps the most common electrocution injuries. For a brief instant, these flash fires are almost as hot as the sun. Any contact could cause third or fourth-degree burns. These injuries normally require extensive, and costly, treatment at specialty burn centers.
The runaway electrical current also causes many falls. Typically, the flash throws victims back several feet. That reaction helps save them from even more serious burns. Unfortunately, being tossed several feet on a construction site could lead to an even worse injury.
Reach Out to a Dedicated Attorney
Florida construction sites hold many dangers for innocent workers. For a free consultation with an experienced Tampa construction accident lawyer, contact Mark H. Wright, PLLC. You have a limited amount of time to act.
Resource:
osha.gov/data/commonstats