Runaway Tow Truck Kills Teenager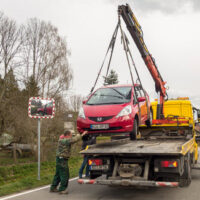 A 15-year-old Spring Hill girl is dead after a tow truck backed out of a driveway and nearly crushed the vehicle it struck.
According to the Florida Highway Patrol, a Mazda Miata was eastbound on County Line Road near the Hernando County – Pasco County line when a tow truck suddenly backed out of a driveway. The tow truck's flatbed smashed into the Miata, killing the young girl, who was a passenger, almost instantly. Neither driver was hurt.
No charges are pending against either driver at this time.
First Party Liability
Many accidents are like the one in the above story. One driver clearly fails to yield the right-of-way to another driver. Legally, these situations usually involve the ordinary negligence doctrine or the negligence per se shortcut.
Ordinary negligence is basically a lack of care. Most tow truck drivers and other commercial operators have a duty of utmost care. Most noncommercial operators have a duty of reasonable care. They must avoid accidents when possible, drive defensively, and obey the rules of the road. For both commercial and noncommercial drivers, backing out of a driveway and striking another car clearly violates the duty of care.
If that breach causes injury, the tortfeasor (negligent driver) is liable for damages. In Florida, these damages usually include compensation for economic losses, such as medical bills, and noneconomic losses, such as pain and suffering.
Failure to yield the right-of-way violates several traffic code provisions. In the Sunshine State, tortfeasors are presumptively liable for damages if:
They violate a traffic or other non-penal safety law, and
That violation substantially causes injury.
Since the law establishes the standard of care, the individual driver's legal duty is largely irrelevant.
However, as in the above story, many emergency responders do not issue citations in fatal accidents. They view these incidents as civil disputes between insurance companies. So, they do not want to get involved.
Third Party Liability
If a commercial driver caused the crash, the respondeat superior rule usually applies. Towing companies and other entities are legally responsible for the negligence of their drivers if:
Employee: For tax purposes, many commercial operators are independent contractors or owner-operators. But for negligence purposes, almost all drivers are employees. The employer controls drivers to some extent, and that control is enough.
Scope of Employment: Somewhat similarly, any act which benefits the employer in any way is within the scope of employment. For example, workers who are injured during company softball games are acting within the scope of employment. Happier and healthier workers benefit employers.
Other employer liability theories, which often apply in assault or other intentional tort claims, include negligence hiring and negligent supervision.
Vicarious liability is especially important for Tampa personal injury attorneys in catastrophic injury claims. Frequently, individual tortfeasors do not have enough insurance coverage to fully compensate victims or survivors. Vicarious liability gives these individuals an additional source of recovery.
Contact an Experienced Attorney
Large commercial vehicles often cause serious injuries. For a free consultation with an experienced Tampa car accident lawyer, contact Mark H. Wright, PLLC. You have a limited amount of time to act.
Resource:
tampabay.com/news/pasco/2020/10/12/teen-girl-killed-after-tow-truck-backs-into-cars-path-troopers-say/
https://www.markwrightlaw.com/drunk-driver-kills-tampa-woman/