Deadly Fireball Wreck On Veterans Expressway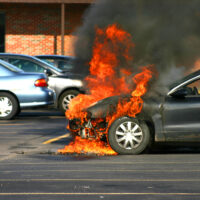 A man is dead after he lost control of his pickup truck on the Veterans Expressway in Tampa and collided with a semi-truck.
This wreck happened near the Hillsborough Avenue exit. According to investigators, the man, whose name was not released, tumbled across several lanes of traffic, hit a retaining wall, bounced back into a traffic lane, whereupon a trailing semi-truck hit it. A fireball erupted which mostly consumed both vehicles.
The pickup driver died at the scene. The semi-truck driver was not seriously injured.
Fault vs. Liability in Car Wreck Claims
Emergency responders and insurance adjusters determine fault based solely on the evidence immediately available. Liability, on the other hand, is a determination based on all evidence, the applicable law, and the advocacy skill of your Tampa car accident attorney.
Let's start with evidence, fault, and liability. If investigators conclude that a driver illegally crossed over several lanes, they almost always assign fault to that driver. But there are many reasons drivers could lose control of their vehicles. Negligence, or a lack of care, is only one of them. A defective product, such as a tire blow-out, could be another cause. Physical evidence, like tires, rarely survive fireball collisions. So, attorneys must dig deeper, perhaps by reviewing recall notices and repair histories.
If a commercial driver is involved in a wreck, there are some very big legal issues to consider. In Florida, truck drivers, Uber drivers, and other commercial operators have a higher duty of care than noncommercial operators. So, they must take additional steps to avoid accidents. These extra steps could involve taking routes with less traffic and maintaining an active lookout for erratic drivers.
These legal issues are even more complex when a vehicle bounces across a road like a ping-pong ball. Normally, a noncommercial motorist may not be negligent if s/he strikes such a vehicle. The collision is too difficult to avoid. But the outcome could be different if the motorist is a commercial operator, due to the aforementioned higher duty of care.
Finally, advocacy skill is important as well. The victim/plaintiff has the burden of proof as well as the burden of persuasion. An enhanced duty case is a good example. First, an attorney must convince a judge that the higher duty of care applies. Then, an attorney must convince jurors that the commercial operator was negligent.
Third-Party Liability
Financial responsibility is another important element of a commercial driver claim. Frequently in these cases, the tortfeasor (negligent driver) is legally responsible for damages, but a third party is financially responsible for them.
These damages usually include compensation for economic losses, such as medical bills, and noneconomic losses, such as pain and suffering. Additional punitive damages could be available as well, in some extreme situations.
Respondeat superior is one of the most common vicarious liability theories. Employers are liable for damages if their employees are negligent during the course and scope of their employment.
All these elements apply in most truck driver claims. Generally, the employer is the company that owned the cargo or the truck, the employee is the driver, even if the driver was technically an independent contractor or other non-employee, and the course of employment is any act that benefits the employer in any way.
Other employer liability theories, which usually apply in assault and other intentional tort damage claims, include negligent hiring and negligent supervision.
Reach Out to a Dedicated Hillsborough County Lawyer
Injury victims are usually entitled to significant compensation. For a free consultation with an experienced personal injury attorney in Tampa, contact Mark H. Wright, PLLC. Attorneys can connect victims with doctors, even if they have no insurance or money.
Resource:
fox13news.com/news/fatal-crash-closes-portion-of-veterans-expressway