Ford, Once Again, Recalls Dangerous Vehicles for Accidents & Injuries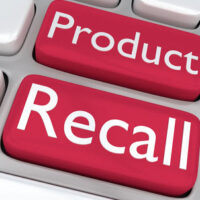 In June, Ford announced that it was recalling more than two million cars due to a dangerous defect; Specifically, due to the doors opening on their own in some vehicles while the car is being driven. According to the company, the problem is the fault of the dealerships, who were supposed to fix the problems during the last recall and either failed to do so, or did the work incorrectly.
The problem is evidently linked to the door latch being defective and cracking, especially when it is subject to high heat, making it impossible for the door to actually close. This is unknown to the driver, as the door appears to be closed sufficiently. However, it isn't actually closed, and will open unexpectedly while the car is being driven.
Doors Opening While Driving
The current recall covers the following models, with model years ranging from 2011 to 2016:
C-Max
Escape SUVs
Focus
Ford Fiesta
Fusion
Lincoln MKZ
MKC SUVs
Mustang
Transit Connect vans
This Has Been a Well-Documented Problem for Four Years
While Ford maintains that there have been no injuries or fatalities thus far due to the problem, there are reports that the National Highway Traffic Safety Administration has compiled numerous safety complaints associated with the problem. 
In addition, as noted, this has been a safety issue associated with Ford's vehicles for some time now, as it first emerged as a serious problem in their vehicles in 2016, and there have been at least two previous recalls due to the problem. As a result, any injuries or fatalities that do result from the defect would arguably not be met with sympathy for Ford from the courts.
F-150 Trucks with Brake Issues Accidents, Injuries, & Recall
Ford has also issued an additional recall for yet another problem that has definitively been linked to at least seven accidents resulting in injuries. According to the company, it has recalled almost 300,000 F-150 trucks from 2014 to 2017 model years due to a leak in the brake master cylinder, which can weaken the front brakes—a major safety issue. According to the company, drivers may hear a chime and/or see a red brake warning alert on the dashboard as a result of the problem.
If You Have Been Injured, You Have Rights. Contact A Florida Product Defect Attorney
Any consumer who purchased a car from Ford and ended up with dangerous, defective door latches can bring a claim for breach of warranty and consumer protection. Florida state warranty law provides for a cause of action against sellers and manufacturers, and plaintiffs can also bring claims when the company knows of these defects, which has been the case for the last four years with a number of Ford's vehicles. If you have any questions about defective products, contact Tampa defective product lawyer Mark H. Wright for assistance.
Resource:
cnn.com/2020/06/12/business/ford-recall-faulty-door-latch/index.html
https://www.markwrightlaw.com/will-amazon-ultimately-be-held-responsible-for-defective-products-sold-on-its-website/