Fatal Intersection Wreck In Plant City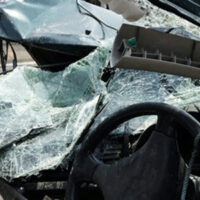 A man is dead after he apparently ran a red light, collided with a semi-truck, and was ejected from his vehicle.
The wreck happened at the intersection of Turkey Creek and State Highway 60. According to Florida Highway Patrol investigators, a 30-year-old man from Tampa, who was southbound on Turkey Creek, went through a red light and smacked into an eastbound semi-truck. Emergency responders rushed the seriously injured man to a nearby hospital, where he later died.
The victim, who was not wearing a seat belt, apparently went through his vehicle's front windshield.
Fault vs. Liability
If one driver violates a traffic law, like running a red light, emergency responders and/or insurance adjusters almost always assign fault to that driver. Fault is a preliminary determination based only on the facts which are available at the scene.
A subsequent investigation, along with the application of legal principles, sometimes makes the liability determination different. That's why all victims should have a Tampa personal injury attorney evaluate their claims, regardless of a preliminary fault determination.
Additional facts in car wreck claims often come from a vehicle's Event Data Recorder. Most EDRs measure and record things like:
Vehicle speed,
Engine RPM,
Brake application, and
Steering angle.
Once an attorney or accident reconstruction professional puts these bits of evidence together, the final determination often differs from the initial fault determination. For example, the semi-truck might have been speeding. If that's the case, the semi-truck driver is probably responsible for this wreck.
Legal analysis, such as the duty of care in a commercial vehicle wreck, sometimes comes into play as well. Most noncommercial operators have a duty of reasonable care. They must drive defensively and avoid accidents if possible. Most commercial operators, like truck drivers, have a higher duty of care. They must take affirmative steps to avoid accidents. These steps usually include maintaining a longer following distance and slowing down when they move through intersections.
The last clear chance doctrine is another example. If Driver A runs a red light and Driver B has a chance to get out of the way but does not take advantage of this opportunity, Driver B could be legally responsible for the wreck, even though Driver A ran the light.
Last clear chance is easier to establish in commercial vehicle wrecks, because of the aforementioned higher duty of care.
The Seat Belt Defense in Florida
In many jurisdictions, seat belt non-use is either largely or completely irrelevant in personal injury claims. But the Sunshine State is different. Insurance companies may use seat belt-non use as a way to reduce or deny compensation.
There are basically two parts to the seat belt defense in Florida. First, the insurance company must prove the seat belt was working 100 percent properly. Seat belt mechanical issues are common in older vehicles. Buckles and other parts can only take so much wear and tear. Second, the insurance company must prove that the failure to wear a seat belt, as opposed to the driver's negligence, caused the victim's injuries. Many car crash injuries are motion-related. For example, the violent motion of a car wreck causes the brain to slam against the inside of the skull.
Insurance company lawyers must establish both prongs of the seat belt defense by a preponderance of the evidence.
Connect with a Hard-Working Hillsborough County Lawyer
Car crash victims are usually entitled to significant compensation. For a free consultation with an experienced Tampa car accident lawyer, contact Mark H. Wright, PLLC. We routinely handle matters throughout the Tampa Bay area.
Resource:
tampabay.com/news/breaking-news/2021/06/12/man-dies-in-plant-city-car-crash-after-running-red-light/