Driver Sentenced In Fatal 2018 Bayshore Drive Pedestrian Accident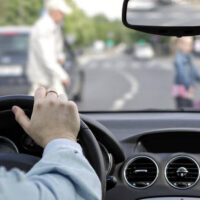 A Hillsborough County judge sentenced Cameron Herrin, who was barely 18 at the time, to twenty-four years in prison for his role in the dual fatal wreck. The high sentence illustrates the devastating effect that a wrongful death has on a family.
At the time of the wreck, Herrin was behind the wheel of a Ford Mustang, a high school graduation gift he'd received less than a week earlier. According to investigators, Herrin swerved to avoid his friend's car and struck a 24-year-old woman who was pushing her 1-year-old daughter in a stroller. Herrin's mother testified that her son was very sorry for the accident. But that testimony didn't compare with victim impact statements, at least in the eyes of the judge.
"Do you know what it's like to prepare for a deceased loved one's birthday?" Brian Raubenolt, the deceased mom's brother-in-law, rhetorically asked Herrin. "Do you know what it's like to whisper into a dying toddler's ears, 'I promise I will always take care of your dad?' … You did this to us, Cameron. You killed them." At the trial's conclusion, Circuit Judge Christopher Nash remarked that "It's impossible to have greater harm than occurred in this case."
Prosecutors used information from Herrin's vehicle to prove he recklessly sped on several occasions immediately before the wreck. Additionally, according to witnesses, Herrin and his friend were racing prior to the fatal collision.
Electronic Evidence in Vehicle Collision Claims
Herrin's Event Data Recorder, which is the gadget which tracked his vehicle's speed, was significant in this criminal case. EDRs are usually very important in civil claims as well.
Such electronic evidence is almost bulletproof in court. Eyewitnesses could be biased, unreliable, or dishonest. Assuming the EDR was in good working order, these computers have none of these flaws. The information they record is always accurate. Similarly, many tech-savvy Hillsborough County jurors give more weight to electronic evidence than they assign to witness statements.
However, this critical evidence is often unavailable. A Tampa personal injury attorney must act decisively and quickly to preserve it.
Florida has a very strict vehicle information privacy law. Generally, only the vehicle's owner, and perhaps a licensed mechanic who needs the data for diagnostic purposes, can tap into EDR information. So, even if the owner gives an attorney permission to access the EDR, which isn't likely, an attorney still needs a court order.
There are some technical hurdles to overcome as well. EDRs are extremely sophisticated and sensitive devices. Not all lawyers have the rolls needed to extract data without damaging the device.
These things assume the EDR is available. Frequently, insurance companies "accidentally" destroy these devices when they dispose of wrecked vehicles. To prevent this outcome, an attorney must quickly send a spoliation letter to the insurance company. This letter creates a legal duty to preserve any possible physical proof, including the EDR, for a subsequent trial.
Damages in a Pedestrian Accident Claim
These victims are entitled to compensatory damages, for medical bills and economic losses as well as emotional distress and other noneconomic losses. In terms of determination, economic losses are usually straightforward. To calculate a fair amount of noneconomic damages, most attorneys multiply the economic losses by two, three, or four, mostly depending on the facts of the case.
In extreme situations, such as a racing teenager who kills a young mom and a young child, additional punitive damages are often available as well. Jurors may award these damages if there is clear and convincing evidence that the tortfeasor (negligent driver) intentionally disregarded a known risk.
Contact a Dedicated Lawyer
Car crash victims are entitled to substantial compensation. For a free consultation with an experienced Tampa car accident lawyer, contact Mark H. Wright, PLLC. Virtual, home, and hospital visits are available.
Resource:
tampabay.com/news/tampa/2021/04/08/mom-ive-killed-someone-witnesses-recall-bayshore-crash-as-young-driver-faces-sentence/