Bedsores and Nursing Home Neglect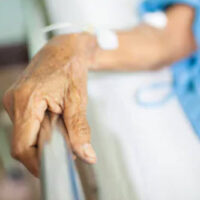 Pressure ulcers are one of the most preventable and most serious types of neglect injuries at Florida nursing homes. If residents turn over in bed every two hours, bedsores cannot form. Largely because they are overly medicated or very weak, many residents cannot turn themselves over. So, they depend entirely on the nursing home staff. Unfortunately, in many cases the nursing home staff lets them down.
Unless they are promptly and properly treated, bedsores quickly become life threatening. That's especially true if the victim has a pre-existing condition. Pretty much all nursing home residents have a pre-existing condition. If not, they would probably be at home.
Due to the seriousness of the injury and the neglect of the nursing home, as outlined below, a Tampa personal injury attorney can often obtain substantial compensation in bedsore injury cases. This compensation usually includes money for economic losses, such as medical bills, and noneconomic losses, such as pain and suffering.
What Causes Bedsores?
Either directly or indirectly, nursing home understaffing causes most bedsore injuries. As many as 90 percent of the long-term care facilities in Hillsborough County could be dangerously understaffed.
The staffing level standard of care varies, mostly based on the overall health of the residents. Many facilities do not measure up to the standard of care, especially during low census periods like nights and holidays. So, only one person might make rounds, instead of two or three. It's almost impossible for one person to turn a full-grown adult over in bed, especially since the patient is probably dead weight at that time.
Many understaffed nursing homes hire under qualified employees. For example, if a facility cannot a licensed vocational nurse, management might delegate these job responsibilities to a patient care technician. Professionals like these do not have the same skill set as an LVN.
In terms of bedsores, the result is often the same in both situations. If staffers do not turn over patients with early-stage bedsores, the pressure ulcers fester. And. the patient care technician might not be able to spot a bedsore. So, the same thing happens.
Nursing Home Liability
The nursing home is liable for injuries in both these situations. Either the respondeat superior rule or the negligent hiring doctrine usually applies.
Respondeat superior holds employers liable for the negligence of their employees, if employees were negligent during the scope of employment. Florida law defines all these key words in broad, victim-friendly ways. Staffers who fail to turn over patients every two years are clearly negligent. This conduct is below the aforementioned standard of care.
Negligent hiring is retaining unqualified employees and/or asking employees to do too much. Special rules apply if the disqualification is a prior criminal record.
Vicarious liability theories like these are very important in nursing home neglect cases. Unless nursing home owners change the way they do business, more people will probably get hurt. And, substantial damages are the only way to get the attention of these companies. For this reason, additional punitive damages are often available, on top of compensatory damages.
Count on a Dedicated Lawyer
Bedsores are among the most serious nursing home neglect injuries. For a free consultation with an experienced Tampa nursing home neglect lawyer, contact Mark H. Wright, PLLC. Attorneys can connect victims with doctors, even if they have no money or insurance.
Resource:
medlineplus.gov/ency/patientinstructions/000426.htm