Ridesharing Crashes in Florida: A Closer Look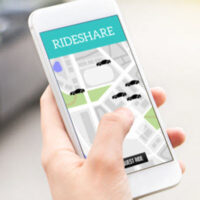 Since 2016, Uber has almost doubled in size. Worldwide, Uber drivers transport about 1.6 billion passengers per quarter. Many observers believe that Uber's increased volume is connected to the increasing number of distracted driving crashes in Florida. Additionally, the increased vehicle traffic alone is dangerous.
Most auto insurance companies do not cover commercial losses. So, unless the Uber driver had a commercial rider or a separate insurance policy, the resulting crashes might be uninsured motorist matters.
As outlined below, even though Uber drivers are technically independent contractors, Uber is still financially responsible for these wrecks. As a result, a Tampa personal injury attorney is often able to obtain substantial compensation for victims. This compensation usually includes money for economic losses, such as medical bills, and noneconomic losses, such as pain and suffering.
Duty of Care
Most noncommercial operators have a duty of reasonable care. They must drive defensively, avoid accidents when possible, and obey the rules of the road.
Commercial operators, including Uber drivers, have a higher duty of care in Florida. They must take all reasonable precautions to ensure the safety of their passengers, before, during, and after their rides.
The pickup location must be safe. A freeway shoulder or a dark area is usually not a safe location.
This enhanced duty continues once the vehicle is in motion. Red lights are a good example. When noncommercial drivers have the green light, they may normally proceed through the intersection. Arguably, because of the higher duty of care, Uber drivers must pause and ensure the intersection is clear before they move forward.
Uber drivers also have a duty to protect riders from each other. Reports of rider-on-rider assaults and other such incidents are rare, but they do happen. Uber drivers do not just have a duty to call for help. They have a duty to prevent these incidents before they start, if possible.
When rides end, the same rules mentioned above apply. Even if the rider is disruptive, Uber operators cannot force riders to exit on the side of the road.
Liability Issues
As mentioned, many Uber operators drive with one eye on the road and one eye on a GPS navigation device. Even if the gadget is mounted in a hands-free position, that behavior still constitutes distracted driving.
Unsafe lane changes are another serious problem. Ridership has largely recovered since the spring 2020 coronavirus lockdowns, but there are fewer operators in many areas. As a result, some drivers get lots and make sudden, unsafe turns or lane changes.
In terms of third party liability, the respondeat superior doctrine usually applies in these situations. Rideshare companies, like Uber, are financially responsible for the negligence of their drivers if:
Employer: Uber drivers are independent contractors for tax purposes. But they are employees for negligence purposes. Any employer control, such as passengers picked up or protocols followed, makes drivers employees in this context.
Scope of Employment: Any act which benefits the company in any way is within the scope of employment. That includes driving through the city waiting for a fare. Having drivers nearby benefits the company.
Other vicarious liability theories, which often apply in assault or other intentional tort claims, include negligent hiring and negligent entrustment.
Connect with an Experienced Attorney
Ridesharing collision claims are usually quite complex. For a free consultation with an experienced Tampa Uber accident lawyer, contact Mark H. Wright, PLLC. We routinely handle matters in Hillsborough County and nearby jurisdictions.
Resource:
businessofapps.com/data/uber-statistics/