Tampa Hospital Tragically Loses Remains of Newborn Baby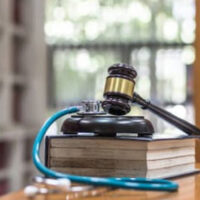 For many parents, losing a child is the greatest sadness they could possibly experience. Some unfortunately experience this either during or immediately after birth; sometimes due to birth complications, and sometimes due to a hospital's negligence.
Sadly, one couple whose child passed away several days after he was born was also put through yet another tragedy (as well as mental and emotional distress) when St. Joseph's Hospital here in Tampa allegedly (and negligently) lost the child's body. According to reports, the child was taken from the hospital to Orlando Medical Center for an autopsy, and then brought back to the hospital, only to have the hospital report, several days later, that the child's body was missing. Sadly, his body still has not been recovered, and as a result, his parents have not had closure, or been able to hold a funeral for their child.
Duties Violated by The Hospital
In a case like this, the child's parents have every right to sue the hospital, as the incident would likely cause them to suffer from severe mental pain and suffering, psychological injuries, mental anguish, loss of capacity for the enjoyment of life, and other losses.  It is the hospital's duty to:
Record, track, and monitor the child's body;
Provide security, protection, and safeguards for the child's body;
Store and preserve the body in accordance with Florida laws on which establishments are licensed to store or maintain human remains;
Comply with Florida legal standards concerning raw human and biomedical waste; and
Store and transport the child's body with dignity and respect.
Litigation Claims
The family of the deceased has the right to bury their loved one, and any interference with this right gives rise to actionable wrongs for causing tortious infliction of emotional distress. Specific litigation claims brought against the hospital in a case like this can include negligent handling of the child's body and reckless infliction of emotional distress in connection with conduct that is so extreme and outrageous so as to imply malice; as well as conduct that goes beyond the bounds of decency so as to be odious and intolerable. In this case, criminal liability could also be imposed if the hospital engaged in unauthorized activities, such storing or maintaining human remains without a license and/or disposing of raw human and/or biomedical waste.
If You Have Been Wronged by A Florida Hospital, Contact Florida Injury Attorney Mark H. Wright
If you or a loved one has been harmed by a hospital or other facility here in Florida, know that you have the right to address these wrongs that have been committed against you and/or your loved ones.  Contact Tampa personal injury attorney Mark H. Wright today to find out how we can help. Our attorneys are working 24-7 to ensure that justice is done.
Resource:
tampabay.com/news/health/2020/08/07/a-newborn-died-and-st-josephs-hospital-lost-his-body-lawsuit-says/
https://www.markwrightlaw.com/new-study-reveals-that-driverless-cars-wont-prevent-auto-accidents-meanwhile-florida-recklessly-welcomes-them-onto-our-roads/