Runaway Driver Strikes Tampa Pedestrian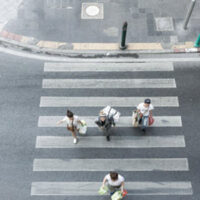 Few details were available after a 39-year-old woman was instantly killed while she tried to cross the street.
The wreck occurred near the intersection of East Busch Boulevard and North 18th Street. After the fatal collision, the 22-year-old driver remained at the scene and cooperated with police.
It is unclear whether or not the 39-year-old woman was in a crosswalk at the time.
Pedestrian Accidents in Florida
Speed is usually the leading cause of serious injury and fatal pedestrian accidents in Hillsborough County. At impact speeds below 30mph, the pedestrian death rate is about 25 percent. The pedestrian fatality rate catapults to 90 percent at impact speeds above 55mph.
Speed also multiplies the risk of a collision. Most vehicle operator eyes are attracted to fast motion, like fast-moving cars and quick-changing lights. Slow-moving pedestrians do not draw much attention, especially when the tortfeasor (negligent driver) is operating at a high speed.
Even if pedestrians survive the initial impact, because they are completely exposed to danger, they often suffer serious injuries like:
Head Injuries: The sudden, violent motion in a car wreck usually causes more head injuries than the wreck itself. That movement causes the brain to repeatedly slam against the insides of the skull.
Internal Injuries: These same forces cause internal organs to rub against each other. When that happens, they often bleed profusely. This bleeding is hard to detect and hard to stop.
Broken Bones: The excessive force in these crashes usually crushes bones as opposed to simply breaking them. As a result, doctors must normally use metal parts to set the bones. Post-injury physical therapy is also very intense in these situations.
Damages in a vehicle-on-pedestrian wreck usually include compensation for economic losses, such as medical bills, and noneconomic losses, such as pain and suffering.
Liability Issues
A few pedestrian accidents involve right-of-way violations. Vehicles must yield to pedestrians who are in a crosswalk and have the light. Tortfeasors who hit pedestrians in these situations are presumptively negligent.
However, most pedestrian accidents occur outside marked crosswalks. So, a Tampa personal injury attorney must start from square one, from an evidence standpoint.
Striking a pedestrian, whether or not the pedestrian had the right-of-way, clearly violates the duty of reasonable care. This duty requires operators to drive defensively and avoid accidents when possible.
Both these approaches are subject to insurance company defenses, such as the sudden emergency defense. This doctrine excuses negligent conduct if the tortfeasor reasonably reacted to a sudden emergency.
Initially, this defense appears to apply in these cases. But a jaywalking pedestrian is not a "sudden emergency," even if the pedestrian rather recklessly walked out into traffic. A sudden emergency, in this context, is limited to rare events, like a lightning strike or a hood fly-up.
At best, jaywalking pedestrians might be partially at fault for the wreck. Under Florida law, in these cases, tortfeasors remain liable for a proportionate share of damages.
Connect with a Savvy Attorney
Pedestrian accidents often cause serious injuries. For a free consultation with an experienced Tampa pedestrian accident attorney, contact Mark H. Wright, PLLC. We do not charge upfront legal fees in these situations.