Latest Studies Reveal That Distracted Driving & Vehicle Accidents On the Rise for Those Who Drive for Work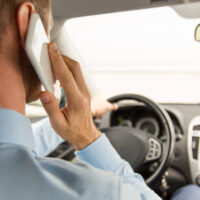 According to recent reports, our roads are becoming more and more dangerous, both on the job and due to the COVID-19 pandemic. Studies discussed in greater detail below reveal that more and more cars are speeding, while drivers are engaging in distracted driving, and work injuries caused by auto accidents have been on a steady increase over the last nine years since the release of the Apple iPhone.
Today, while there are a number of dangerous jobs, according to this research, driving a motor vehicle on the job is currently the most dangerous work you can do. These types of accidents also often cause catastrophic injuries, including those involving the head, neck, and spine.
Analysis Reveals That Virus Pandemic Is Increasing Speeding and Distracted Driving Amongst Truck Drivers
According to recent radar analysis from the ELD and fleet management technology, there has been a 20 percent increase in severe speeding events involving truck drivers driving faster than 11 miles per hour over the speed limit, as well as a sharp increase in driver distraction since COVID-19. Data also indicates that there is a 20 percent increase in the number of text messages sent to drivers while driving and an overall increase in apps usage, calls, and texts amongst all types of fleet drivers in transportation, field service, and government, including drivers attempting to access apps on their devices while driving and receiving inbound calls and texts.
According to some experts, it is likely that drivers have been more active on their phones because in-person communications have been at an all-time low during the pandemic. Drivers are also likely using their phones to stay updated on current events and fleet administrators are pushing communications through apps and texts.
Auto Accidents On The Job Increase Every Year; Likely Due To Smartphone Distraction
In addition, according to the new report released by the National Council on Compensation Insurance, the number of work injuries caused by auto accidents has been on a steady increase since 2011, when Apple iPhones were released, while other workers compensation claims have continued to decrease. Although there is no definitive proof that it is distracted driving per se that has directly caused the increase in auto accidents, there is no question that there is a correlation and a strong connection.
According to researchers, worker compensation claims caused by auto accidents were following the same declining trend as other categories until 2011, when the numbers started to increase. Since then, while most claims in other categories have declined by approximately 20 percent, claims caused by auto accidents increased five percent above 2011 levels.
Still, researchers are hopeful that smartphones are reaching a saturation point and, as a result, the number of auto accidents will level off.  Some also have faith that cell phone blocking and hands-free technology will help, and the Insurance Institute for Highway safety and National Highway Traffic Safety Administration predict that assistance devices such as automatic braking will also help to reduce accidents.
If You Have Been the Victim of Distracted Driving in Florida, Contact A Florida Distracted Driving Accident Recovery Attorney 
Distracted driving has become one of the biggest dangers on the road in Florida, with drivers continuing to take risks by sending and receiving calls, texts and emails, regardless of how dangerous and illegal it is. If you or a loved one has been the victim of distracted driving, contact Tampa distracted driving accident attorney Mark H. Wright for assistance.
Resources:
claimsjournal.com/news/national/2020/06/25/297871.htm
ccjdigital.com/pandemic-increases-distracted-driving-truck-drivers/
https://www.markwrightlaw.com/new-study-reveals-surprising-new-distracted-driving-activities-that-could-lead-to-accidents/