Breaking Down A Head-On Collision Claim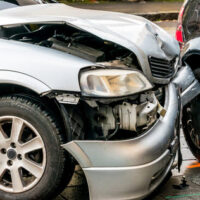 Numerically, these collisions make up a tiny number of the millions of serious injuries which car crashes cause every year in the United States. A disproportionate number of head-on wrecks happen on the narrow, mostly two-lane roads which crisscross much of Central Florida. Some of these crashes involve drivers who carelessly cross the center line. Others involve drivers who are simply on the wrong side of the road. The difference between the two kinds of crashes could be important, as outlined below.
Due to the extreme force in a head-on wreck, these victims often sustain catastrophic injuries, such as spine injuries. Generally, the force knocks the delicate spine out of alignment. The lifetime medical expenses in such a case often exceed $5 million.
Because of  serious injuries like this, a Tampa head-on collision attorney can usually obtain significant compensation in these cases. This compensation usually includes money for economic losses, such as medical bills, and noneconomic losses, such as pain and suffering. Lack of evidence is sometimes an issue in these claims. More on that below as well.
Wrong Way vs. Head-On Collisions
To examine this difference up close, let's look at some typical head-on wrecks which happen in Hillsborough County.
First, assume Bob tries to pass a slow-moving large truck in a no passing zone. He doesn't see Rick approaching on the other side of the road. Rick doesn't see him, since Bob is right behind a large truck. Without warning, Bob darts into Rick's traffic lane to pass the truck.
In a situation like this, there's very little that Rick or any other driver can do to avoid a wreck. Therefore, Bob is probably responsible for damages.
Next, assume Bob was confused and he is driving on the wrong side of the road. Rick sees Bob approaching, but Rick does nothing to avoid a crash. He does not change lanes, change speeds, or take other evasive measures.
Rick could be legally responsible for damages in this case, even though he didn't break the law, because of the last clear chance rule. If a driver fails to take advantage of the last clear chance to avoid a crash, that driver could be responsible for damages. The last clear chance rule almost always comes up in head-on and rear-end collision claims.
Finally, assume a grassy area separates the two sides of the road. Bob drifts out of his lane, across the median, and into Rick's lane.
Wrecks such as these are in a grey area. Sometimes, motorists like Rick have the last clear chance to avoid such wrecks. But this rule only applies if a driver had the last clear chance. That's different from any possible chance. Frequently, these wrecks happen so fast that motorists have little time to react. Furthermore, traffic and other conditions on roads often make evasive maneuvers dangerous or impossible.
Electronic Evidence
Typically, these wrecks are so severe that both drivers are killed. Furthermore, there might be little physical evidence, like skidmarks, to indicate what went down. Attorneys usually turn to a vehicle's Event Data Recorder in situations like this.
Much like a commercial jet's black box flight data recorder, a passenger vehicle's EDR measures and records operational information, such as:
Steering angle,
Brake application,
Engine RPM, and
Vehicle speed.
Skilled attorneys can put these pieces of evidence together like pieces of a jigsaw puzzle and give jurors a clear picture of what happened. Furthermore, this evidence is almost impossible to successfully block in court. Unlike people sometimes are, fully-functional computers are never biased or wrong.
Attorneys must act quickly to preserve such electronic proof. Otherwise, the insurance company might "accidentally" destroy the wrecked vehicle and any possible evidence it contains, including the EDR.
Count On a Thorough Hillsborough County Lawyer
Head-on wrecks are very complex in Florida. For a free consultation with an experienced personal injury attorney in Tampa, contact Mark H. Wright, PLLC. We do not charge upfront legal fees in these matters.
Resource:
asirt.org/safe-travel/road-safety-facts/