Number Of Fatal Car Crashes On The Rise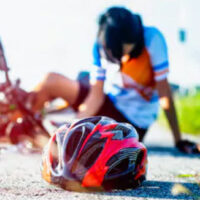 A dramatic increase in bicycle and pedestrian accidents has fueled one of the largest increases of fatal vehicle collisions on record.
With coronavirus lockdowns over, people are getting out and going back to work again, noted advocacy group Forward Pinellas. In Hillsborough County, there have been 122 traffic fatalities in the first half of 2021. There were 100 in the first half of 2020. "It's not very surprising, unfortunately. I think we've seen from the pandemic that speeding is up, reckless driving is up," remarked Whit Blanton, the director of Forward Pinellas. "I won't say I'm frustrated but I'm disappointed that we continue seeing the crashes we do."
In response to the uptick, the Florida Highway Patrol vowed to enforce reckless driving and speeding laws more aggressively.
Bicycle Accidents
Like four-wheel automobiles, two-wheel bicycles are also motor vehicles under Florida law. But many motorists have a hard time sharing the road with bicyclists. Not all these feelings are intentional or malicious. Some vehicle operators have a hard time seeing small bicycles in heavy traffic. But ill will is a problem as well. Some motorists feel that slow-moving bicycles invade their space. More on that below.
Designated bicycle lanes are popping up in many places around Tampa Bay. Generally, a stripe of paint is the only thing separating cars from bicycles. Even if concrete pylons or other barriers are there, these barriers don't prevent all bicycle accidents. In fact, they don't even prevent most of them.
Right turn wrecks are a good example. Typically, when motorists turn right, they look to the left. So, they might never see a bicycle in the designated bike lane to their right. As a result, they turn directly into the rider's path. When a large vehicle plows into a tiny bicycle, the results are usually tragic for the bicyclist. Thin bicycle helmets offer very little protection in these wrecks.
Ironically, lane barriers might increase the chances of such crashes. Many of these pillars are so large that motorists have a hard time seeing around them.
That being said, traffic changes, like lower speed limits and more designated bicycle lanes, are very effective overall. In addition to protecting riders better, they make drivers more aware of bicyclists. Yet many vehicle owners strongly resist such changes. They see land barriers as eyesores and lower speed limits as unfair travel burdens.
Pedestrian Accidents
Likewise, some changes like longer red lights and wider sidewalks can effectively eliminate most pedestrian accidents. But these moves aren't very likely either. It costs a lot of money to expand sidewalks, and longer red lights irk motorists who just want to get where they are going as quickly as possible.
Speed is one of the leading factors in the pedestrian accident fatality rate. If the tortfeasor (negligent driver) is moving slower than 20mph at the time of impact, the pedestrian death rate is only about 10 percent. This figure skyrockets to over 80 percent if the tortfeasor is travelling 40mph or faster.
Unfortunately for victims, most pedestrian accidents happen outside marked crosswalks. So, tortfeasors are frequently travelling at or near top speed when they strike pedestrians.
Even if the pedestrian survives the accident, they usually sustain permanent injuries. Broken bones are a good example. High-speed impacts usually shatter bones. Therefore, doctors must use metal parts to reconstruct these bones. As a result, the victim usually suffers some permanent loss of function, especially if the broken bone was a shoulder, hip, ankle, or other joint.
Damages in a vehicle collision claim usually include compensation for economic losses, such as medical bills, and noneconomic losses, such as pain and suffering.
Connect with a Thorough Hillsborough County Lawyer
Car crash victims are usually entitled to significant compensation. For a free consultation with an experienced Tampa bicycle accident lawyer, contact Mark H. Wright, PLLC. We do not charge upfront legal fees in these matters.
Resource:
abcactionnews.com/news/driving-tampa-bay-forward/fatal-crashes-spike-in-tampa-bay-in-first-half-of-2021