Speeding Driver Kills Bicyclist In Tampa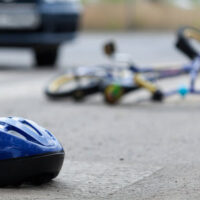 A motorist "failed to observe" a southbound bicyclist as he was travelling "at a high rate of speed," according to investigators.
Investigators offered few other details. Apparently, the motorist clipped the bicycle rider and then spun into a tree. The bicyclist died at the scene. The driver was injured but doctors expect him to survive.
Bicycle Wrecks
The weather is mild in Tampa Bay pretty much all year. As a result, bicycle riders are on area streets pretty much all year. At most, these riders only have thin bicycle helmets to protect themselves. So, they often suffer catastrophic or fatal injuries in collisions. Designated bicycle lanes guarded by concrete pylons or other barriers could effectively prevent many of these crashes. But mostly for aesthetic or selfish reasons, motorists usually oppose these things. Furthermore, in some cases, these barriers cause crashes, instead of preventing them.
Many bicycle-on-vehicle accidents are left turn wrecks. A tortfeasor (negligent driver) who is waiting to make an unprotected left turn against traffic does not see an approaching bicycle. As a result, the tortfeasor turns directly into the rider's path. These wrecks are especially common in downtown areas, where traffic is congested and driver visibility is limited.
Other bicycle-on-vehicle accidents are right turn wrecks. A tortfeasor and bicyclist approach a green light at about the same time. Typically, when people turn right, they only look to the left. As a result, the tortfeasor might not see a bicyclist in the lane to their right. These wrecks are especially common if concrete pylons or another barrier separates the right-hand traffic lane from the designated bicycle lane, and thus limits the driver's visibility.
Limited visibility is never an excuse for negligence. If anything, motorists have a responsibility to slow down even more and use even more caution in these situations.
Speed and Vehicle Collisions
Excessive velocity is a factor in about a third of the fatal traffic accidents in Florida. That's because speed increases the risk of a wreck and the force of a collision.
Speed multiplies stopping distance. A motor vehicle does not stop on a dime. First, the driver must spot a hazard. Second, the driver must move his/her foot onto the brake pedal. Finally, the driver must gently apply the brakes to safely stop the vehicle without losing control.
At 30mph, most cars move about six car lengths during this process. At 60mph, stopping distance multiples to eighteen car lengths. Certain factors, such as vehicle weight and environmental conditions, increase stopping distance even further.
Additionally, according to Newton's Second Law of Motion, speed multiples the force in a collision between two objects. If I knock my smartphone off my dining room table, the fall might cause little or no damage to it. However, if I drop my smartphone from my second story window, it will probably shatter when it hits the sidewalk.
Damages in a vehicle collision claim usually include compensation for economic losses, such as medical bills, and noneconomic losses, such as pain and suffering. A Tampa car accident lawyer can also obtain additional punitive damages in some cases.
Contact a Hard-Working Hillsborough County Lawyer
Injury victims are usually entitled to significant compensation. For a free consultation with an experienced personal injury attorney in Tampa, contact Mark H. Wright, PLLC. Attorneys can connect victims with doctors, even if they have no insurance or money.
Resource:
wtsp.com/article/news/local/hillsboroughcounty/deadly-bicycle-crash-tampa/67-a5d1fcc5-cdcb-408b-8976-47f99eb5d0e7