Fatal Tractor-Trailer Collision In Tampa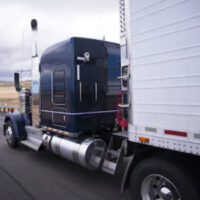 Driver fatigue may have contributed to an intersection collision between a passenger car and a semi-truck in Tampa.
The wreck happened near the intersection of Martin Luther King Boulevard and Waring Drive. According to police and witnesses, a 27-year-old man driving a passenger car was eastbound in a turn lane. He tried to turn left and pulled into the pathway of an oncoming large truck. That vehicle could not stop. The truck driver was killed at the scene and the passenger car operator was rushed to a nearby hospital with serious injuries.
The trucker was not wearing a seat belt at the time of the wreck.
Liability in Intersection Collision Claims
Truck drivers are rarely killed in these wrecks. Their vehicles weigh up to 80,000 pounds and they sit very high in their cabs. These two features also make large trucks very dangerous, especially when the operator is fatigued.
Time of day or night is often key circumstantial evidence in fatigued operator cases. Most people are naturally drowsy early in the morning, around midday, and late at night, no matter how much sleep they had the night before.
Other circumstantial evidence includes recent amphetamine use, sleep apnea, and prior HOS (Hours of Service) compliance issues. Roughly a third of truckers use speed to get through the day. When this drug wears off, the user crashes hard. Sleep apnea, a condition which robs people of restful sleep at night, is common among truckers, mostly because they sit for prolonged periods. Prior compliance issues are recorded in a written report which is usually admissible in car wreck claims.
Liability is far from clear in cases like this, even if one driver was impaired. Turning in front of an oncoming vehicle is a classic failure to yield the right of way. If police officers issued a citation, which they frequently do to establish fault, and the traffic violation caused the wreck, the tortfeasor (negligent driver) is presumptively liable for damages in Florida.
These damages normally include compensation for economic losses, such as medical bills, and noneconomic losses, such as pain and suffering.
Legal doctrines, like the last clear chance rule, sometimes come into play as well. This doctrine excuses negligence, like pulling out in front of an oncoming truck, if the other driver had the last clear chance to avoid a wreck. Possibilities include quickly changing lanes or speeds. However, large trucks cannot do any of these things quickly.
The Seat Belt Defense in Florida
Another legal doctrine, the seat belt defense, often comes up in many car crash claims. Overall, the seat belt compliance rate is about 90 percent. So, there are a significant number of unrestrained car wreck victims.
The legal doctrine varies significantly in different states. Under Florida's version of the seat belt defense, an insurance company can use failure to wear proper restraint as evidence of contributory negligence.
In comparative fault cases, jurors must divide fault on a percentage basis between the two parties. Hypothetically, in a wrongful death claim, jurors might divide fault 50-50 in the above case. They might equally split responsibility between the driver who pulled in front of the truck and the trucker who failed to wear a seat belt.
A Tampa car accident attorney can alter this division of responsibility, mostly by challenging the claim that failure to wear a seat belt substantially caused injury. Insurance company lawyers must present concrete proof that the failure to wear a belt, as opposed to the tortfeasor's negligence, substantially caused the wreck. Furthermore, the insurance company must prove that the seat belt was in good, working order at the time.
Florida is a pure comparative fault state. So, even if the victim was 99 percent responsible for the crash, the tortfeasor is liable for a proportionate share of damages.
Connect with a Hard-Working Hillsborough County Lawyer
Injury victims are usually entitled to significant compensation. For a free consultation with an experienced personal injury attorney in Tampa, contact Mark H. Wright, PLLC. You have a limited amount of time to act.
Resource:
fox13news.com/news/troopers-investigatig-deadly-tampa-crsah-involving-a-semi-truck