Deadly Fireball Collision In Zephyrhills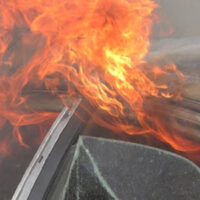 A young man from Tampa is dead after a pickup truck rear-ended his disabled vehicle, catapulting it onto the shoulder and causing it to burst into flame.
The wreck happened on U.S. Highway 301 near Chancey Road. According to police and witnesses, a pickup truck plowed into a disabled car, which was partially on the shoulder and partially in the right traffic lane. The force of the collision propelled the car onto the median, where it quickly caught fire. The vehicle was fully engulfed by the time emergency responders arrived.
The car driver died at the scene. The pickup driver, who was not seriously injured, does not face charges at this time.
Liability Issues in Rear-End Wreck Cases
Fireball collisions often cause more catastrophic injuries than any other kind of car wreck. Even if the victims survive, the serious burns they sustain usually leave permanent physical and emotional scars behind. Frequently, these scars are difficult to overcome.
A Tampa personal injury attorney can obtain compensation for these injuries if a driver was negligent. Since rear-end wrecks violate Florida's right-of-way statute, these tortfeasors (negligent drivers) are presumptively liable for damages. These damages normally include compensation for economic losses, such as medical bills, and noneconomic losses, such as pain and suffering.
Proving negligence is insufficient. The evidence must be strong enough to refute some common insurance company defenses. Frequently, the last clear chance doctrine is a factor in rear-end wreck cases. Assume Chris rear-ends David. If David had a chance to avoid the wreck, perhaps by speeding up or changing lanes, and he didn't take advantage of that chance, David could be legally responsible for the wreck, even though he did nothing wrong.
This defense is quite common in the "swoop and squat" insurance fraud which is so common in Florida and most other states. Driver A pulls out in front of Driver B. Then, Driver A stops suddenly to induce a rear-end collision.
However, in the above case, sudden emergency, which is the legal cousin of last clear chance, could be a factor. Tortfeasors are not responsible for damages if they:
Reasonably react to
A sudden emergency.
The first prong of this doctrine is usually easy for an insurance company lawyer to prove, unless the tortfeasor fled the scene of the accident. However, a stalled car, although it is not unusual, is not a "sudden emergency" in this context. That category belongs to things like hood fly-ups, lightning strikes, and other completely unexpected events. Even if a hill or curve limited driver visibility, a stalled car usually is not a sudden emergency.
Insurance companies frequently try to use the sudden emergency defense in pedestrian injury claims. However, jaywalking pedestrians usually are not sudden emergencies either, as outlined above.
Negligence Claims and Mediation
Once these preliminary matters are resolved, most car crash claims settle out of court. A significant number of them settle during mediation.
Hillsborough County judges almost always refer contested cases to mediation. The judge appoints a third-party mediation, who is usually an unaffiliated Tampa personal injury attorney, to lead a settlement conference. The mediator conveys settlement offers and counter-offers back and forth, all the while trying to move the parties closer together on a settlement figure.
During mediation, both sides have a duty to negotiate in good faith. This responsibility is twofold. First, they must sincerely want to settle the case. They cannot simply go through the motions. Second, they must be willing to make some compromises, if that's what it takes to reach an agreement.
Largely because of this good faith negotiation requirement, mediation is about 90 percent successful in most cases.
Count on a Diligent Hillsborough County Lawyer
Injury victims are usually entitled to significant compensation. For a free consultation with an experienced Tampa car accident attorney, contact Mark H. Wright, PLLC. Virtual, home, and hospital visits are available.
Resource:
patch.com/florida/lutz/tampa-man-dies-fiery-crash-after-car-breaks-down-u-s-301